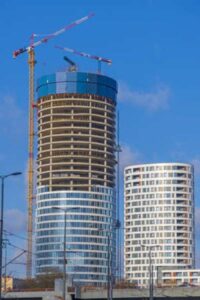 If your company is building a new commercial structure or doing major renovations or additions to an existing structure, the construction process can be a long and stressful one, full of potential pitfalls.
Before you can even begin the process, you must outsource some of the work in all likelihood. That includes design work, construction, and basically everything that takes you from the current state of affairs to the moment the new space is fully finished and able to be used. In this situation, it's so important to hire a full-service, licensed general contractor. Here's what they'll do for you:
Gets Everyone on the Same Page
No matter what kind of commercial development you're planning, you'll want the process to be completed as quickly and for as low a cost as possible, without sacrificing quality. Any issues or mistakes caused by a lack of communication will slow you down and cost you more. As a project owner, any miscommunications between contractors will fall on you. And getting updates from so many different people will be difficult and confusing. A full-service general contractor will ensure that you have one point of contact, who will keep you apprised of any updates and will handle communication between sub-contractors.
Oversee Everything
When it comes to a major construction project on your company's new space, the amount of people to hire and the many phases of the project can be overwhelming. A full-service general contractor will manage everything so that the transitions from the idea phase to design to hiring subcontractors to managing the construction process to the opening of your new facility all go smoothly. Much easier than managing several different contractors on your own.
Greater Quality Control
Depending on what type of business you run, you may have no idea where to start when it comes to hiring a bunch of different reliable contractors. And there are so many needed to get your from start to finish: architects, interior designers, roofers, electricians, plumbers, painters, construction crews, and more. A full-service general contract will handle brining in sub-contractors, and they'll know how to choose firms that do quality work.
If you're planning a commercial development project, you need an experienced full-service general contractor on your side. Walker Design & Construction Co. specializes in doing commercial development and design-build construction in South Florida and all over the state. We'll guide you through both the planning and execution stages of your project. Call us today at 561-247-7477  to learn more.